Print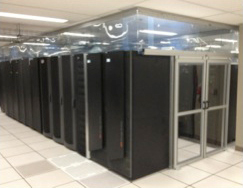 ITSD has consolidated 15 data centers in the Jefferson City area into a single facility, the Missouri State Data Center (SDC). The SDC provides a cost effective, uninterruptible hosting environment to support state IT needs. The IT services provided by the SDC support, either directly or indirectly, every service provided by the State of Missouri.  The SDC provides Infrastructure-as-a-Service (IasS) and private cloud services to 14 IT-consolidated State departments and other state government entities.
Consolidation of data centers working in concert with server virtualization has allowed the SDC to improve the reliability, security and level of services offered to our customers. At the same time, we have reduced the cost of hardware & software, reduced the necessary amount of facility space and power, and reduced the number of FTE required to provide those services.
Services offered by the SDC include:
Operations and Monitoring (Systems, Power, Cooling, Security)
SDC operations staff maintains batch processing, critical system monitoring and alerting of all state IT systems, to include cooling and physical access of SDC, as well as provides after-hour phone support to state agencies. SDC operations staff opens an average of 1,100 monthly after-hours support calls, assisting agency users with IT issues. 
Print Shop
The SDC print room operates 24-hours/day, 365 days/year and provides a critical service to the state through the production of printable checks, titles and more.
Approximately 1.8 million vehicle titles printed in 2012 
Approximately 1.8 million checks printed in 2012
Approximately 54 million feet of print in 2012
Systems
The SDC systems group is responsible for installing, configuring and maintaining all distributed, midrange, mainframe and storage systems in the SDC. This group maintains all data backup and replication of data and recovery of systems to disaster recovery site.
1 Z10 enterprise class IBM mainframe – 6,000 MIPS
1 Z10 business class IBM mainframe – 3,000 MIPS (DR location)
100 blade servers
1,800 virtual servers
700 physical servers
4 - AS400 iSeries
1 petabyte of SAN
Data backup for 1,800 state servers, totaling 938,225 GB of data
Websphere, Middleware and Application Server Support (WMASS)
The WMASS team was formed in 2011 to manage and support the consolidation of the state's web hosting, active directory, web portal, SharePoint, Enterprise Content Management (imaging), Exchange, account management and other middleware application components. Consolidation of licensing, maintenance, hardware and software is resulting in cost savings across these technologies.
Efficiencies are realized from standardization of processes and procedures within these technologies.
Support 1,000+ applications for 14 IT-consolidated State departments.
Support enterprise directory services and e-mail communication systems which consist of approximately 42,000 accounts.
Support enterprise SQL Server Reporting Services for eight state agencies.
Support the enterprise e-mail archiving system for 14 IT-consolidated State departments.
Support the enterprise SharePoint environment for the State of Missouri.
Virtual Desktop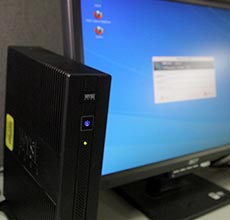 Desktop virtualization (virtual desktop or VDI) refers to the concept of replacing a personal desktop that is physically located on a desktop computer, laptop, etc with a virtual desktop located on a server, usually in a data center.  The virtual desktop can be accessed in an office setting via thin clients that require less space and fewer cables than a traditional desktop computer. Laptops and tablets can have client software installed that allows the user to securely connect to their virtual desktop located elsewhere.
Users primarily benefit by having the ability to access all of their documents and applications
Hardware and software costs are moderately higher for VDI compared to traditional desktops at the present time, however VDI costs may decline in the future. Tech support costs are lower for virtual desktops which makes the option more attractive for the enterprise.
ITSD assesses state employees to determine if VDI is the right technology for meeting their needs before deploying VDI. State agencies and/or state employees wanting more information on VDI or want to request VDI should submit a request for help.
Pros
New desktops can be created and deployed in minutes vs. hours for a traditional PC
Hardware lifecycle for Thin Clients are 7 to 10 years vs. traditional PC is 5 years
Centralized management of virtual OS
Application compatibility
Hardware failures of the endpoint(s) are easier to manage, Thin Client vs. traditional PC
Secure, remote access is easier to ensure (VDI vs. Virtual Private Network). It allows employees to connect to their desktop from any internet connection at any time.
Provides foundation/potential for telework or Bring Your Own Device (BYOD)
Requires less office space because the Thin Client is small and has fewer cables.
Better disaster recovery capabilities
Increased security – data no longer on individual devices
Allows for application virtualization thereby gaining efficiencies in management and delivery methods for a library of desktop software.
Cons
Privacy and Personalization may be more limited for some users
Peripherals will require more scrutiny and compatibility testing
Resource intensive desktop applications may not perform optimally across network