Print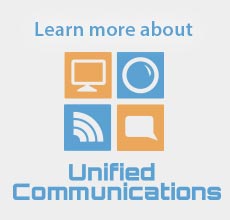 Unified communications (UC) is the integration of real-time communication services such as instant messaging (chat), IP telephony, video conferencing, presence, call control and speech recognition with non real-time communication services such as voicemail, e-mail, text messaging and fax. This single and seamless communication platform provides a consistent unified user interface and allows users to communicate in a unified manner across multiple devices.
By simplifying the communication experience through integrating numerous systems into one communications tool the state is able to reduce travel, increase productivity and save costs.  
UC Features
Below are some of the features of UC:
Client Software on the Desktop (CUPC or Jabber)
Presence: Presence is denoted by the colored jelly beans next to a person's name. Presence allows you save time by not calling someone that is in a meeting or busy.
Chat: Chat allows for quick, responsive one on one or group conversations.
Click to Call: Point and click vs dialing by hand.
Voicemail: Scan a list of voicemail and click to listen.
Conversation History, Missed Calls: Scan a list of conversation history, missed calls and click to call back.
Contact Groups: Arrange contacts into and/or teams to more easily locate and contact individual persons.
Single Number Reach
Single Number Reach allows users to answer incoming calls at their desk or mobile phone eliminating missed calls.
Audio and Web Conferencing (Meeting Place and WebEx)
UC audio and web conferencing tool that allows users to set up group conferences that eliminate the necessity of some face to face meetings and the logistics involved.
Telepresence
Telepresence describes a range of products that enable state agencies to conduct meetings with persons in separate cities without incurring travel costs.
Telepresence units are currently available in Jefferson City, St. Louis, Kansas City and Springfield.
Call Centers
Other productivity gains are afforded by tools used by call centers.
VoIP – Owning a VoIP network allows state employees to communicate within the network without incurring long-distance charges. It also allows the State to have better control over the assignment of phone numbers as state employees begin their career, move within an agency, transfer to a different agency and exit state employment.
TEHO – Tail-end Hop Off (TEHO) reduces long-distance charges for calls from within the network to numbers outside the network.
Project Phases and Timelines
ITSD and its contracted partner, World Wide Technologies (WWT), began the task of implementing UC for many of Missouri's state employees in 2010. The project is being completed in phases.
Phase 1
Phase I of the project was limited to Jefferson City because of the dense concentration of state employees (and phones) in the area, its high-speed Ethernet backbone, and single local calling area.  8,189 lines were converted to UC during Phase 1. 
Phase 2
Phase 2 of the project focused on St. Louis and Springfield.  Thirty-four sites and 5,092 lines were converted to UC during Phase 2.  This phase also included the deployment of regional TEHO sites to drop calls off and give them the appearance of being local to the off-network telephone company. 
Phase 3
Phase 3 of the project is underway and focusing on Kansas City, St. Joseph, Columbia, Cape Girardeau and other cities.  Over 3,000 more lines will be converted to UC during this phase.