The Office of Administration, in partnership with 
the Department of Higher Education & Workforce Development and the Department of Revenue, 
welcome you to the 2021 Statewide Black History Month Celebration!

February 25, 2021 from 1:00 PM – 2:00 PM.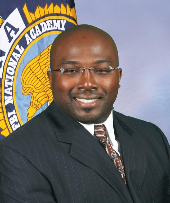 We are truly excited to have Gary Hill, Chief of Police for Lincoln University, as the keynote speaker for our celebration. Chief Gary Hill has been with the Lincoln University Police Department since December 1, 2016. He also the Director of the Lincoln University Law Enforcement Training Academy. He started his Criminal Justice career as a Corrections Officer at the Jefferson City Correctional Center (The Walls) in 1996. He joined the Cole County Sheriff's Office in 1998. He was promoted through the ranks from Deputy to Sergeant in 2002, Sergeant to Lieutenant in 2005 and served as the Patrol Division Commander until November 2016. He served as the Patrol Division Commander for Cole County Sheriff's Office for last 12 years of his tenure.
Chief Hill came to Jefferson City from Muskogee Oklahoma to attend Lincoln University where he graduated in 2001 with a Bachelor of Science in Criminal Justice. He went on to receive his Master's Degree in Administration of Criminal Justice Agencies from Columbia College and is currently a Criminal Justice Doctoral student at Northcentral University. Chief Hill is a graduate of the Federal Bureau of Investigations 239th National Academy Class in Quantico, Virginia (2009).
Chief Hill served on the Cole County Sheriff's Office SWAT Team from 2001 to 2016 (Commander from 2005 until 2016). He also played intricate role in establish the Central Missouri Tactical Officers Association (C.M.T.O.A) and served as Vice President from 2013 to 2016. Chief Hill was awarded the Law Enforcement Commendation Medal from the National Society of the Sons of the American Revolution. Chief Hill was appointed to the Missouri POST Commission by Governor Parson in 2020.
Chief Hill is a member of the Missouri Police Chiefs Association and the FBI National Academy Associates. Chief Hill is involved with numerous organizations in the Jefferson City community; Missouri Task Force on Children's Justice 2012 – 2014, Jefferson City Crime Stoppers Law Enforcement Liaison 2012 – Present, Board Member, Disciples of Christ Youth Outreach Program 2011 – 2013, Member, Alpha Phi Alpha Fraternity, Incorporated 1996 – Present, Blair Oaks High School Assistant Football Coach 2005 – 2012, Committee Member, for Jefferson City Public Schools Character Plus Program 2010, Board Member, Capital City Boys and Girls Club 2008 – Present, Optimist Club Officer of the year 2005.
Chief Hill has been married to his best friend Candie Hill for 14 years. They have two daughters Gabriella Grace 12yrs, Amani 26yrs. and one son Steven Anthony 21yrs.
It's an honor to have you join us for this occasion, and we encourage you to share, use our hashtags, and invite a guest!
History of Black History Month:
The recognition of African American's contribution to civilization started with Negro History Week in 1925 through the efforts of Carter G. Woodson. At mid–century, mayors of cities nationwide issued proclamations noting Negro History Week. The Black Awakening of the 1960s dramatically expanded the consciousness of African Americans about the importance of black history, and the Civil Rights movement focused Americans of all colors on the subject of the contributions of African Americans to our history and culture.
The celebration was expanded to a month in 1976, the nation's bicentennial. President Gerald R. Ford urged Americans to "seize the opportunity to honor the too-often neglected accomplishments of black Americans in every area of endeavor throughout our history." That year, fifty years after the first celebration, the association held the first African American History Month. By this time, the entire nation had come to recognize the importance of Black history in the drama of the American story. Since then each American president has issued African American History Month proclamations.
https://africanamericanhistorymonth.gov/about/
 
Additional Resources: