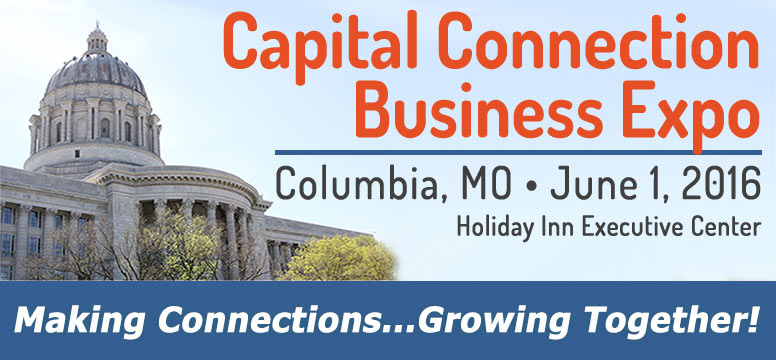 ACTIVITIES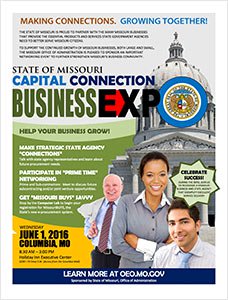 ATTEND THIS FREE EVENT TO:
MAKE SOME STRATEGIC STATE AGENCY "CONNECTIONS"
Talk to state agency representatives and learn about the future procurement needs.
DO SOME "PRIME TIME" NETWORKING
Prime and Sub-contractors: Meet to discuss future subcontracting and/or joint venture opportunities.
GET "MISSOURI BUYS SAVVY"
Stop by the Expo's computer lab to register for MissouriBuys, and receive hands-on help with related technical questions.
"CELEBRATE SUCCESS"
The Expo will include an award ceremony recognizing a Missouri business that demonstrates excellent service delivery practices; and a state agency that exhibits creativity and resourcefulness in connecting with the business community.
Check back often for new updates about the Expo.
Don't miss your chance to help your business grow!
To Register for the Expo, CLICK HERE!

AGENDA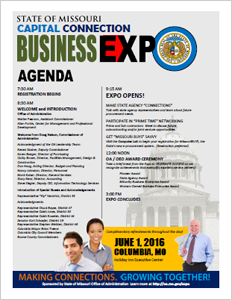 7:30 AM REGISTRATION BEGINS
8:30 AM WELCOME AND INTRODUCTION
OFFICE OF ADMINISTRATION - Walter Pearson & Allan Forbis
WELCOME - Doug Nelson
INTRO OF SPECIAL GUESTS AND ACKNOWLEDGEMENTS - Representative "Kip" Kendrick
9:15 AM EXPO OPENS!
MAKE STATE AGENCY "CONNECTIONS"
PARTICIPATE IN "PRIME TIME" NETWORKING
GET "MISSOURI BUYS" SAVVY
12:00 PM OA/OEO AWARD CEREMONY
3:00 PM EXPO CONCLUDES