Print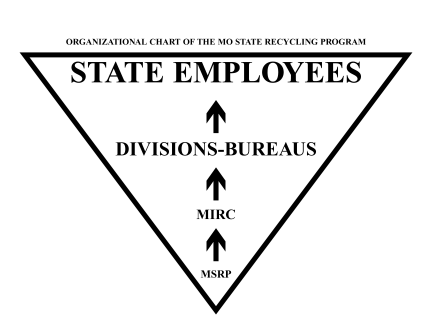 The Missouri State Recycling Program (MSRP) was born in 1989 when legislation added sections 34.031 and 34.032 to Chapter 34 of the MO Revised Statutes. The purpose of the MSRP is to assist State of Missouri government agencies in:
Facilitating the procurement of products manufactured with recycled materials; thereby "closing the loop" in the recycling process.
Coordinating waste reduction strategies.
Overseeing the collection of recyclables by establishing recycling service contracts and coordinating the logistics of collection.
Who is MSRP?
The MSRP is staffed by one full time employee (FTE). The state recycling coordinator does most of the planning and administration of recycling and waste reduction activities. However, the success of the MSRP is largely dependent upon the individual employees' awareness and willingness to participate in recycling activities.
This is why the Missouri Interagency Recycling Committee (MIRC) is a vitally important component of the MSRP. MIRC is able to communicate recycling policies and programs to state employees. The "org chart" places the employees on top because without their participation the MSRP cannot succeed.