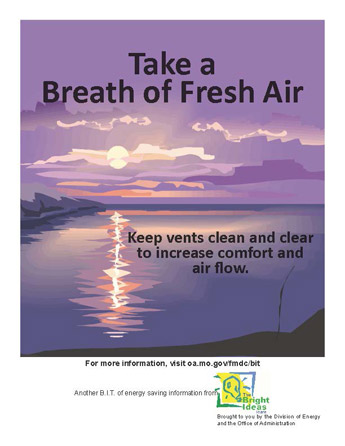 Click the image above for printable poster
Saving Energy and Enhancing Comfort: What a Perfect Pair!
The air that you breathe is extremely important. What most people are not aware of is that they can help create a more comfortable work environment while also reducing energy use and increasing indoor air quality. In state buildings it may seem hard to control the air quality and comfort if you don't control your own thermostat, but there are ways that everyone can help make the indoor air quality better.
Opening Windows and Blocking Vents
First, refrain from opening windows in climate-controlled buildings. Even if it may feel nicer outside, the temperature often changes rapidly and it introduces excess humidity and outdoor pollutants that make buildings' heating and cooling systems work harder.
Second, make sure you do not block air vents with plants, books, furniture, etc. By blocking air vents, you reduce air circulation and it can lead to health problems. It is important to keep air circulating to save energy as well as prevent indoor pollutants from accumulating in any one place.
And Remember, Take These Saving Strategies Home!
The tips we've just discussed can be easily transferred to your home environment as well. At home, make sure your doors and windows seal well. Also, control the temperature to be as cool as comfortable in winter and as warm as comfortable in summer. If you have a relatively predictable schedule, you may want to invest in a smart thermostat. These models can range in price from around $100 to $500 installed.
Why pay for a smart thermostat? According to Energy Star, they can save you about $180 a year on your energy bill. Smart thermostats are a bit more complex than programmable thermostats. Check out these devices to help you get a better idea of what these thermostats can do for you. For even more tips for saving energy on your heating and cooling, check out Energy Star here!
Sources: